Having the correct chair can have a major impact on your productivity and physical well-being! Because of inherent unique work requirements in different work environments, chairs differ per industry. A chair, while seemingly insignificant to your ability to do your job, can actually have a profound impact on your health and  productivity.
Back pain, migraines, and pins and needles. All of these could be signs you're not using the correct chair for your job (or body type).  
A chair is not just a chair!
Why do chairs differ per industry and job function?
A chair needs to be chosen according to a person's industry,  job function and personal physical comfort. There's no single chair that suits everyone and every task. In fact, if you look around your office right now, you'll probably notice staff members who are using the wrong chair.

Short people are the best example (and easiest problem to spot).A short person often sits with their legs dangling above the floor. This puts pressure on their thighs, cutting off blood supply to their legs and causing pain.  Ideally, one should sit with one's feet firmly on the floor and thighs parallel to the ground. The simple fix for this scenario is to give the person a foot stool to correct their posture.
In the same way that physiological differences require different chairs, various industries and job functions have unique requirements too.
High-quality chairs are ergonomically designed to fit your specific requirements – whether that be comfort, hygiene or durability. The right chair for the job will not only outlast a poor-quality, ill-suited chair, but it will reduce the harmful side effects of sitting for hours at a time, and increase productivity and staff morale. A WorkRite© approach would quickly identify the correct chair requirements, allowing you to choose a chair that's fit for purpose.
Different industries that require specific chairs
Laboratories and medical facilities
Factories and food production
Like laboratories and medical facilities, factories and food manufacturers require chairs that are easy to clean and sterile. You wouldn't want any harmful germs or bacteria jumping from a filthy chair into your can of baked beans would you? We thought not.
Another consideration when choosing chairs for a factory environment is that a chair needs to be adjustable (and robust) to use at different work stations.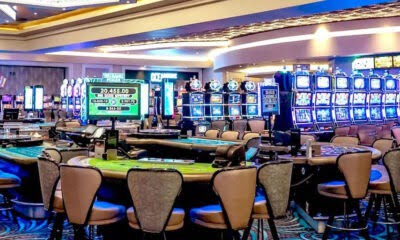 This one may come as a surprise, but casinos have very specific chair requirements. Like airports and shopping centres, casinos are heavy-traffic environments, which require chairs that can withstand thousands of people sitting in them. This means the right casino chair is highly durable.
There are, however, several other considerations when choosing a casino chair.
The chair needs to be aesthetically pleasing (often using chrome or brass finishes), to fit in with the casino's décor and create an opulent atmosphere. Chairs also need to be hygienic and easy to clean. With so many people coming and going (with drinks, food and perspiration), you don't want your chairs to turn into biohazards. For this reason, you'll find most casino chairs are covered in leather or vinyl which is easy to wipe down.
Corporate office environments
Office workers spend the majority of their day seated at their desks, working on their computers. Sitting on an incorrect or inappropriate chair can wreak havoc on a person's long term posture and health – costing the company money due to low staff morale , reduced productivity and absenteeism (which ultimately leads to lower staff retention).
To counter this, businesses should invest in correctly configured office chairs for their staff. Karo's WorkRite© offering provides an approach that should be applied when designing a workstation. This will ensure that chairs are matched to the workstations they serve.

A good quality chair needs to be fit for purpose
A reputable supplier will understand that chairs differ per industry and will conduct a needs analysis according to the WorkRite© approach, to ensure that he is selling you the correct chair. This includes looking at where, why and how the chair will be used, and by whom. You'll also have peace of mind, knowing that your chair comes with a guarantee. A reputable chair supplier will ensure that you're able to service or replace your chair if necessary.