The versatile Sit-Stand Polyurethane Stool
As the name implies, the Sit-Stand Polyurethane (PU) operator stool is ideal for those people who just need a little bit of support before moving on to their next task, whether this be in the office, laboratory, production line or workshop. 
With its black Self Skinning polyurethane (PU) seat, the Sit-Stand is very easy to clean and ideal in all environments where cleanliness is imperative, or grease and oil are just part of the job!
Whatever the height of your workstation, the Sit-Stand can be customised to the correct height. With a built-in clutch handle and weighing in at a mere 6kg, the Sit-Stand easily accompany you to your next task.

NO ASSEMBLY required.
Simply remove the packaging and start using your chair!
This product is delivered to your door anywhere in South Africa and is FULLY ASSEMBLED.
Within the greater Gauteng region, a Karo delivery vehicle will deliver your order. For all other regions, we use a third-party courier service.
All products delivered by a Karo vehicle are wrapped in protective plastic packaging. 
For added protection, products delivered by courier are packed in a cardboard box.
How does Karo process online orders?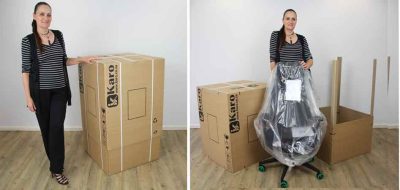 Delivery is FREE to any location in South Africa.
All orders placed on our online shop are processed within 1 working day.
The transport time from our factory to your door is as follows:
Gauteng: 1-3 working days (Karo delivery vehicles).
Major metropolitan areas: 5-10 working days (courier service).
Remote locations: allow up to 15 working days (courier service).
We use courier services for all deliveries outside Gauteng. The above-stated delivery times are based on their historical performance and may be influenced by high seasonal demands and unplanned service disruptions.
For your convenience, we offer a variety of highly trusted South African third-party payment portals.
Simply select your preferred option.
The Sit-Stand PU Stool has a poor Ergonomic Rating.

We offer free returns or exchanges within 14 days of purchase.
You can either return your product for a different one, or get a full refund - no questions asked!
Notes:
Returned items must have all their original tags attached and must be returned in their original packaging.
Returned items must have no visible signs of wear or use.
See our Returns Policy for details.