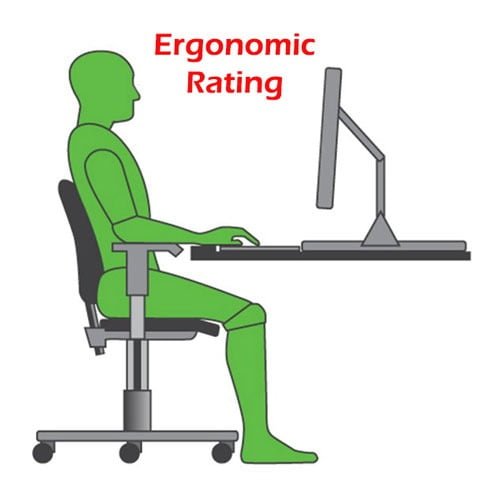 Ergonomic Rating for Chairs
An ergonomic chair is arguably the most important piece of equipment in any working environment. With so many chairs available and each claiming to be "ergonomic", it is important that they can easily be compared using an objective measurement system. The Ergonomic Rating does just that. It is a scientific evaluation system that rates the various ergonomic features of a chair to calculate a final score.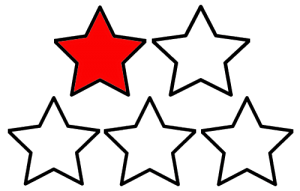 Chairs with a 1-star rating include visitors chairs that are not adjustable and are only suitable for short-period usage.

2-Star chairs have only basic ergonomic features like fixed armrests and height adjustment. They are not suitable as task chairs to be used for extended periods.

Chairs with an average 3-Star rating include task chairs suitable for workers like nurses and production foremen. These employees usually spend most of their time on their feet, with frequent short periods sitting at a desk or workstation.

4-Star task chairs are suitable for users that spend at least 6 hours of their working day sitting at a workstation. Typically these chairs will include a synchronous or free-float mechanism, adjustable armrests and a fully adjustable lumbar support.

5-Star chairs have all the latest ergonomic features to enable the user to adjust the chair to their exact requirements. These chairs are suitable for employees that spend their entire day sitting at their workstation, including multiple shifts and 24/7 usage.
How is the Ergonomic Rating calculated?
The rating is calculated by taking into account the 6 most important features of the chair, where these are added on a weighted scale to determine the final score.
Armrests. Chairs with no or fixed armrests receive a lower score, while those with fully adjustable 4D padded armrests receive the highest score in this category.
Chair Mechanism. A chair with a simple height adjustment mechanism receives the lowest category score. At the opposite end of the spectrum are chairs that are fitted with a Synchronous or Free-Float mechanism that allows Dynamic Sitting. The ease of adjustment and additional features like seat depth adjustment are also included in the calculation.
Backrest Support. The type of backrest and lumbar support is an extremely important ergonomic feature on any chair. Poor or inadequate backrest support often results in back-related health problems. Chairs with a fully adjustable backrest and/or lumbar support therefore score higher in this category than those with limited or no backrest adjustment.
Headrest. The inclusion of a headrest improves the score.

Although a headrest is seldom used by an operator when the chair is in an upright position, it can act as a datum for keeping your head upright and not letting your head and neck drop forward.

A headrest is ideal when you lean back and recline your chair as it supports your head and neck.
Compliance to International Design Standards. Compliance to International Standards is directly related to the spectrum of people that will be able to use the chair, it's overall strength, and it's suitability to a particular working environment.
Usage (hours per day). Chairs that are designed for limited usage per day receive a lower score than those that are designed for 24/7 usage.
Contact us for more information.
Author: John Karle
Director at Karo Manufacturing (Pty) Ltd
6 April 2020