For those on the move or when sitting for long periods is not an option. The Pill-Top stool is ideal for "check ins" at the office or a 'perch' for your sit-stand desk or workbench. Ideal for rigorous industrial, laboratory, retail, hairdresser, dental, medical and surgical environments where space can be at a premium. Light and compact, the Pill-Top stool can be easily stored away or packed together with your toolbox for when you are on the move!
The PILL-TOP Chair  has a 2 year warranty.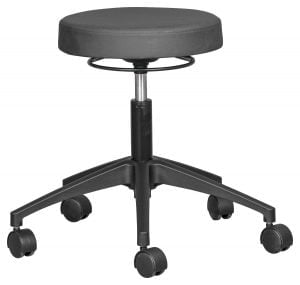 The PILL-TOP Chair has a 2 YEAR warranty.
Our warranty covers all faulty workmanship and material, as well as any latent defects. Find out more on our Warranty Terms & Conditions.
We offer free returns or exchanges within 14 days of purchase. You can either return your product for a different one, or get a full refund - no questions asked!
Notes:
Discounted or sale items are final and cannot be returned or exchanged
Returned items must have all their original tags attached and must be returned in their original packaging.
Returned items must have no visible signs of wear or use.
See our Returns Policy for details.