How do I setup my workstation to create a happy, safe and healthy work environment? In this article I will provide a complete guide to setting up your workstation, viz. your desk, chair, computer and other equipment. I will also provide some tips and highlight potential risk factors.
1. Chair setup
Office workers spend most of their days sitting in their office chairs. Adjusting your chair to the correct position is critical. If your chair is not correctly adjusted, it can place additional stress on your spine and may result in MSD (Musculoskeletal Disorders). Furthermore, it can lead to poor habits and postures resulting in other long-term health issues. What happens to your body when you sit?
Your office chair is the most important piece of equipment in your office. Adjusting your chair correctly is the first step in setting up your workstation.
2. Desk setup
Your desk is the second most important piece of equipment in your office. With so much emphasis on the correct office chair setup, people often neglect the proper setup of their desk and other equipment. The incorrect configuration of your desk, computer and ancillary equipment, can contribute to poor posture and long-term health issues.
Once you have setup your chair, move it towards your desk. If you are working on a computer, your desk should be at about elbow height.
The desk is at the correct height when your elbows are bent at approximately 90 degrees and your forearms are resting on the surface of the desk. Your forearms will now be parallel to the floor.
If your hands are on the surface of the desk and forearms are NOT parallel to the floor, then your elbows cannot be at 90 degrees. If your elbows are bent at less than 90 degrees, then the desk is too high. Conversely, if your elbows are bent at more than 90 degrees, your desk is too low.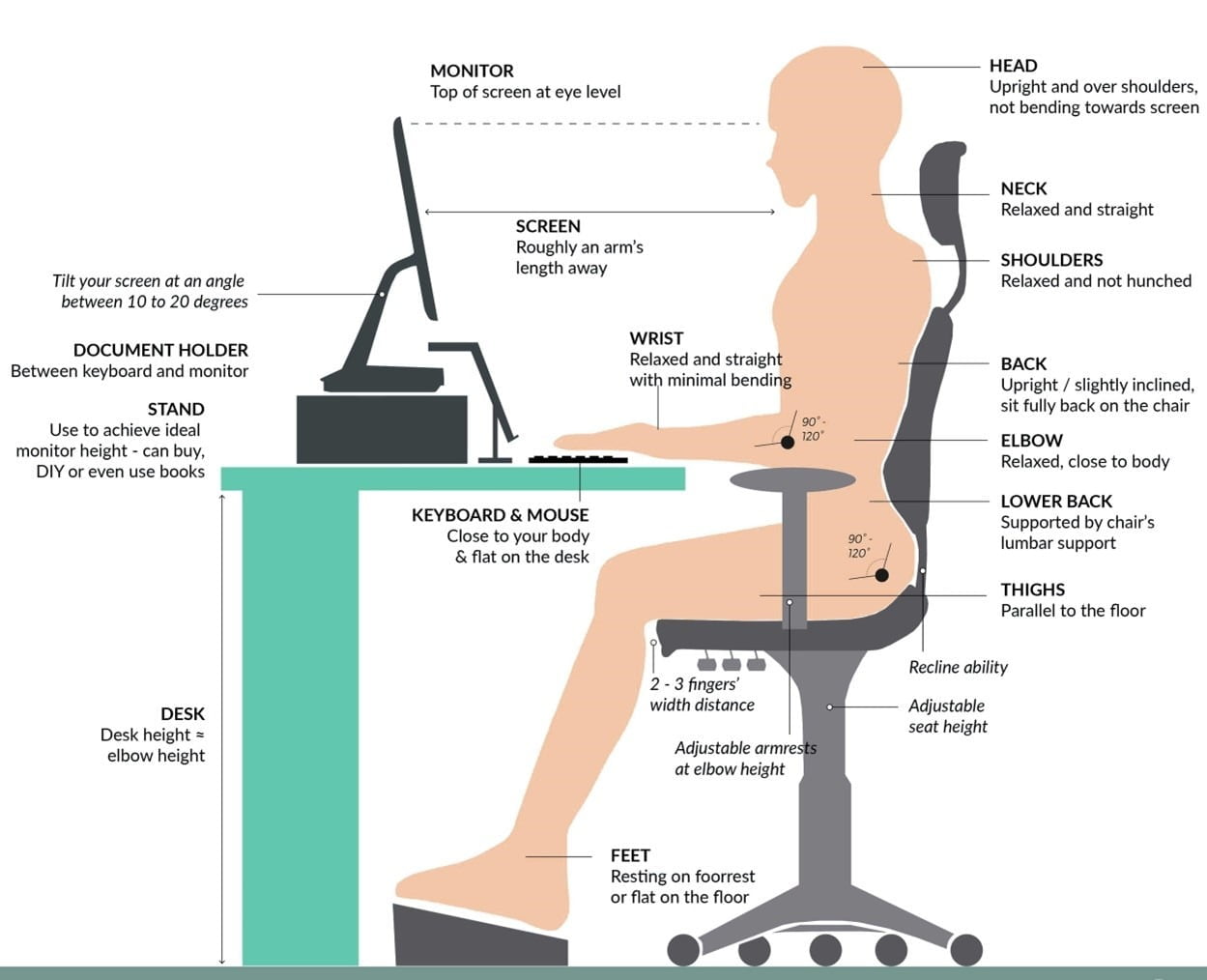 2.1 Height adjustable desks
Height adjustable desks, whether gas, manually or electrically actuated, allow you to adjust the height of your work surface to an ergonomically correct position. They also enable you to alternate between sitting and standing while you work. Remaining in one position for long periods, be it sitting or standing, will have a negative effect on your overall health.
2.1.1 Useful tips when using a height adjustable desk
2.1.2 Advantages of alternating between sitting and standing while you work
2.1.3 Negative effects of sitting too long
2.1.4 Negative effects of standing too long
3. The working area on your desk
The way you arrange your keyboard, monitor, mouse and other ancillary equipment on your desk, can have a huge impact on your posture and wellbeing. Even with the correct desk and chair setup, you may still experience discomfort in the neck and shoulders, which may be caused by excessive leaning, twisting or over-reaching for items on your desk.
Your frequently used equipment and documents should be placed within your Inner Zone (regular and occasional work area). Your regular work area is the most important area as it is the closest to your body and within easy reach. This is where the keyboard and mouse should be placed.
If you constantly use your phone, place it in the Regular work area or use a headset. Avoid cradling the phone between your neck and shoulder.
Items that are not used regularly should be placed in the occasional work area. These items should still be within reach when your arm is extended but without having to lean over.
To prevent over reaching and stretching, avoid placing items that you use often in the Outer Zone (non-working area).
Place your document holder between your keyboard and monitor. The ideal position is directly below your screen to prevent unnecessary bending of your neck.
4. Using your keyboard
The keyboard should be flat on the desk, although some people prefer a slightly angled keyboard. Try different angles to find the most comfortable position for you. Ensure that your wrists remain in a neutral position to reduce fatigue and potential injury. Move the keyboard close to the front of the desk.
Do not place documents between the keyboard and the front edge of the desk as this increases the reach distance to the keyboard.
5. Using your mouse
Place your mouse as close as possible to the keyboard to minimize forward or side reach. Remember to maintain a 90 degree elbow angle. Maintain a straight wrist position when you are using the mouse.
The fine movement of the hand, fingers and thumb repeated for hours on end can cause repetitive strain injury (RSI). A mouse that fits your hand poorly can cause thumb tendinitis.
6. Monitor setup
6.1 Single monitor setup
6.2 Dual monitor setup
Your primary monitor (the one you use most frequently), should be centred directly in front of you, and the secondary monitor should be placed slightly off centre and ay the same height and distance as the primary monitor. If both monitors are used equally, place them side by side at the same height with the inner edges touching.
7. Laptop setup
Laptops were originally designed for short-term and mobile use. If you use a laptop continuously, you can reduce the stress in your neck and shoulders by:
8. Health risks
8.1 Other factors to consider when setting up your monitor
9. Conclusion
How you setup your workstation must always start with your chair followed by your desk. Your chair is the single most important piece of equipment in your office. Adjust it correctly!
For greater overall comfort, adjust the ambient temperature to about 250C. Lastly, to enhance the mood in your office, add some of your own stuff like photos, plants and music, as it creates a sense of identity!
Author: Ronel Hendry
Office Ergonomics Risk Facilitator at Karo Manufacturing (Pty) Ltd
5 Nov 2020