The office chair that you are sitting on plays a huge role in improving your comfort and wellbeing while you work. A good ergonomically designed chair enables you to sit comfortably and reduces the likelihood of back, neck and shoulder pain. So, with some many computer chairs for sale, how do you choose a comfortable chair for work or gaming? What important features should you be looking for when selecting your new chair?
Best chair for computer use – 8 must have features
According to an article in The Washington Post, the average office worker spends about 10 hours a day sitting. Medical researchers have long warned that prolonged sitting is dangerous to your health and can result in heart disease, diabetes, obesity, cancer, depression, as well as muscle and joint problems. Whether you are working or gaming, a good ergonomically designed chair can reduce the incidence of health-related problems caused by such long periods of sitting. The 5 Remarkable Benefits of Having the Best Office Chair.
Here are the 8 'must-have' features you should be looking for when choosing a comfortable computer chair for work or gaming:
1. Height Adjustment
You should be able to adjust the height of your chair to suit your own height and workstation.
2. Computer Chair Backrest Angle Adjustment
You must be able to position the backrest of the chair in a way that suits your body and the way you prefer to work or play. The angle between the backrest and seat of the chair must be adjustable. By altering this angle from an upright to a more reclined position (for e.g. when you are on the phone, talking to someone, or gaming), you automatically stimulate (or activate) the muscles in the lumbar region of your back. This is known as Dynamic Sitting.
The activation of these muscles increases the blood flow through them which prevents lower back pain commonly caused by long periods of static sitting. For greater comfort, the chair should have a locking mechanism that allows the backrest to be easily locked into position. When left unlocked, the backrest should be dynamic or free-floating and provide continuous back support by remaining in contact with your back and moving with you.
Although not essential, a great additional feature is a backrest that can adjust vertically.
3. Adjustable Lumbar Support
We do not all have the same shape of back and we all have slightly different needs when it comes to back support.
The contoured backrest on your office chair should give your back the comfort and support it needs. The most comfortable computer chairs available for sale should include a lumbar support that can be adjusted vertically as well as horizontally (depth). Your lower back should be supported in such a way that it is slightly arched so that you don't slump as the day progresses. Good lumbar support is essential to minimise strain or compression of the lumbar discs in your spine.
See our Knowledge article on what happens when you sit and how it effects your body.
4. Seat Depth and Width adjustment on a computer chair
The chair seat should be wide and deep enough to let you sit comfortably. Look for a deeper seat if you are taller, and a shallower one if you are not so tall. When you sit properly in the chair, there should be a gap of 2-3 fingers between the front edge of the seat and the inside of your knees. Ideally, the best option is a chair that has a seat depth adjustment. This feature allows you to make the seat longer so that you have sufficient support under your thighs.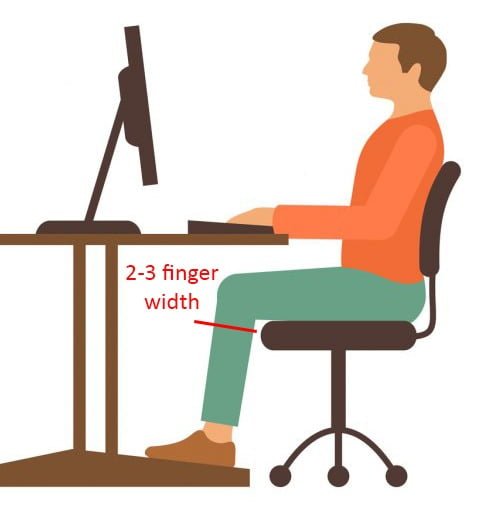 5. Breathable (Mesh) Backrest and Moulded Foam Seat
Whether you are working or gaming, a critical component of the most comfortable computer chairs, is the backrest.
A popular sale item is a computer chair with a mesh backrest that moulds itself to the shape of your back. Furthermore, the mesh lets your body breathe and is more comfortable when sitting for any length of time. Unless you are sitting in an air conditioned office, upholstered backrests can be uncomfortable in a hot climate.
The seat must include High-Density injection moulded foam because it provides additional support, is longer lasting, and will not collapse after a short period of use. Just like your car, the seat foam must be firm because a seat that is too soft will not offer enough support and will quickly become uncomfortable.
6. Adjustable Armrests
Height adjustable armrests are a definite 'must-have' as they take some of the strain off your neck and shoulders. Additional adjustments on the armrests, like width and depth, allow you to position them in a way that suits your body and improves your comfort, while making you less likely to slouch. The difference between armrests is explained in our knowledge article.
7. Easy-to-Operate Adjustment Controls
A comfortable chair is one that is adjusted correctly. Make sure all adjustment controls can be reached from a seated position, and you do not have to strain to get to them. Whether you are working or gaming, you should, from a seated position, be able to easily activate the backrest tilt and locking feature, the position of the lumbar support, the seat height adjustment lever, and the armrest adjustments. It is always easier to get all the settings 'exactly right' if you are already sitting in the chair!
8. Manoeuvrability of computer chairs
The ability to move around in your chair adds to its overall comfort and usefulness. You should be easily able to swivel and move in your chair so that you can reach documents, files etc. Chair castors give you effortless mobility, but make sure to get the right ones for your floor. Nylon castors are suitable for carpet floors, while rubber or soft castors, are suitable for hard surfaces like, tiles, wood and concrete.
Conclusion
There are many different computer chairs available for sale in South Africa. Choosing a comfortable chair can have a huge impact on your wellbeing and level of productivity at work. Sitting on an uncomfortable or incorrectly adjusted chair, typically results in back, neck and shoulder pain. If left untreated, such pain can result in long-term health issues.
Author: Mike Karle
Director at Karo Manufacturing (Pty) Ltd
10 Nov 2020 (rev 1)