Office and desk chairs for sale online in South Africa. Whether you are looking for customised seating or simply wishing to buy an ergonomic chair for your home or office desk, look no further! We sell a wide range of desk chairs suitable for all applications. 
1. Ergonomic Desk Chairs for Sale…..BUY ONLINE!
Our online shop allows you to purchase office chairs 24/7 and have them delivered for free anywhere in South Africa. For your convenience:
Ergonomic Office chairs
We have been manufacturing and supplying desk chairs for offices and homes in South Africa since 1986. The 8 important features of a comfortable office chair.
We understand that buying chairs can be expensive, which is why we have a 14-day 'no quibble' refund policy. It's simple….if you don't like it, send it back for a full refund!
Should you prefer, we also sell a selected range of our ergonomic office and desk chairs online through Takealot and Makro Online.
2. Customised desk chairs for sale
Looking for something non-standard to fit in with your home or office décor? Alternatively, are you looking for a meeting or boardroom chair? No problem….we also offer customised desk chairs for sale throughout South Africa. We can upholster our chairs in a huge variety of fabric, vinyl or leather upholstery. What is the difference between leather and vinyl?
Note: All customised chairs are not available ex-stock and typically have a 3-4 week manufacturing lead time.
3. Factors to consider before buying an ergonomic office chair
4. Visit our Showroom to test-drive our range of desk chairs
At our factory and head office is located in Spartan near Kempton Park. We have a broad range of chairs for your home or office available for sale directly from our showroom. Our team of highly qualified Office Ergonomics Risk Facilitators are on-site to professionally assess your requirements and assist you in purchasing the chair that best suits your needs. Furthermore, our experts will show you how to correctly setup your office chair, desk and computer monitor. The Perfect Office Setup.
Test-drive the desk chairs in our showroom and find one that best suits your needs….and budget!
Visit our showroom!
We are open Monday to Friday.
Book your appointment online or call us on (011) 392-6803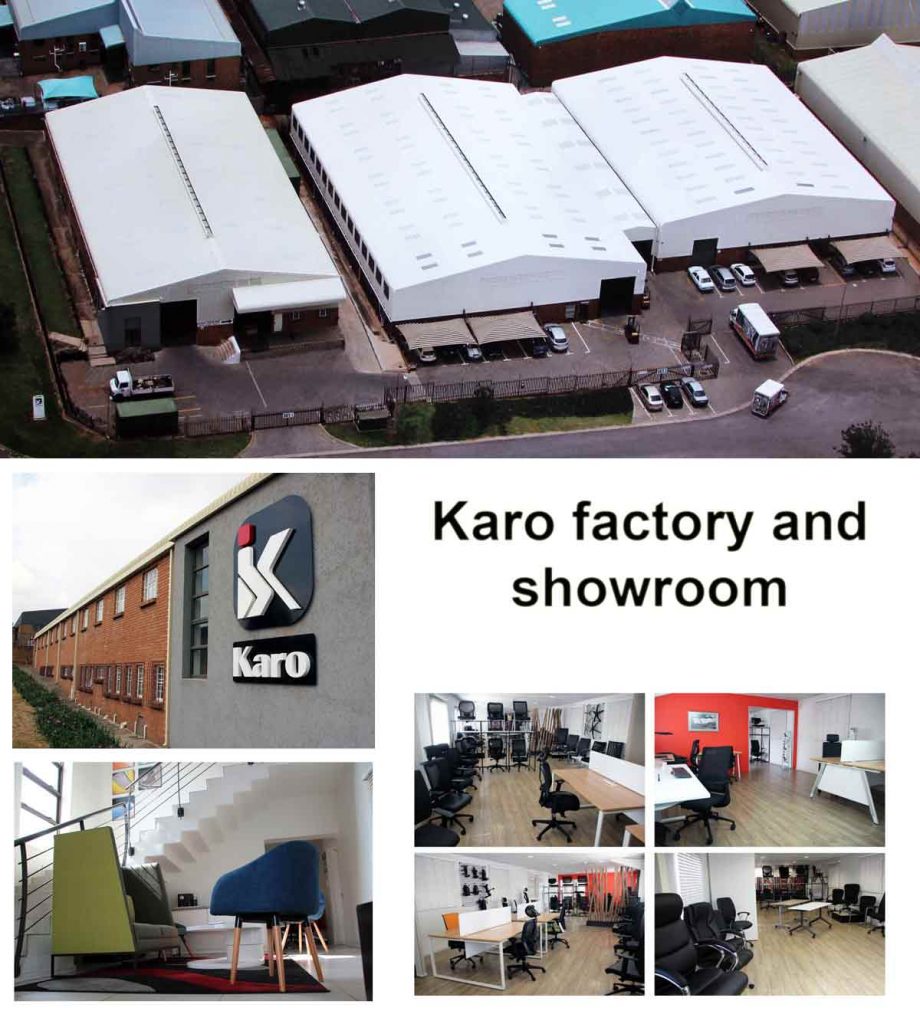 The desk chairs that we offer for sale can be delivered anywhere in South Africa free-of-charge. Over and above our own vehicles, we partner with national carriers that service the entire country. Our standard delivery lead time within the greater Johannesburg and Pretoria area, is 1-4 days.
5. Returns Policy
When you purchase an office chair from Karo, we include a 100% satisfaction guarantee.
If you are not completely satisfied with your purchase, you can return the product to us and we will either repair it, replace it, or issue you with a full refund, subject to our standard Returns Policy.
6. Experience in manufacturing Ergonomic Desk Chairs
We have been manufacturing and supplying office and casino chairs to clients in South Africa since 1986. Due to our consistent policy of offering a quality product at a competitive price in the shortest possible time, Karo products can be found in some of the most well-known companies in Southern Africa.