Height adjustable desks, both manual and electric, are available throughout South Africa, but what are the ergonomics of standing desks? Should you alternate between sitting and standing at work? It is well known that remaining in one position, whether sitting or standing for long periods at a time will have negative effects on your overall health. 10 Things That Happen When You Sit Down All Day. 
Negative effects of sitting
Negative effects of standing
2. What are the advantages of alternating between sitting and standing?
3. What is the correct ergonomic posture for sitting and standing at a desk?
4. Exercise and Movement
Due to the disadvantages of prolonged sitting and standing, adding simple office stretches and exercises to your day can reduce stress, increase energy, and improve your overall mood and creativity. To reduce the health risks of sitting, it is important to keep your body and mind healthy by taking time to move and exercise. This becomes even more important for anyone working remotely as health and ergonomics often take a "back seat". Remote Work – Pros and Cons.

Case Study: Lower back pain, workplace ergonomics and the role of a standing desk
"I am Ronel Hendry, a trained Office Ergonomic Risk Facilitator at Karo and understand the importance of ergonomics in the workplace. I have done extensive online research on sitting versus standing at work and was quite surprised by the varied perspectives from bloggers and ergonomics experts, especially as far as the use of a standing desk is concerned. Some maintain that standing at work is the "NEW BEST THING", while for others it is a big "NO-NO". These varied perspectives prompted me to share my own personal experience. 
In June 2020, I suffered from a pinched nerve in my lower back, causing me intense agony for a period of three months. The excruciating pain radiated from my lower vertebrae and spread into my hips, back, buttocks, and legs. It reached a point where I couldn't endure sitting still for more than 30 minutes without needing to shift. Luckily, during this challenging time, I was testing an ergonomic electric height-adjustable standing desk at my workplace. The desk's programable memory function became my lifeline, enabling me to effortlessly switch between sitting and standing positions with a simple touch of a button.
To alleviate my pain, I started incorporating more standing into my work routine and increased my overall daily movement. Without a fixed pattern, I constantly alternated between sitting and standing and took short walks whenever I felt any discomfort in my body.
Although I had received advice to perform specific exercises to stabilise my spine, the severe pain and discomfort made it impossible for me to follow through with them. Recognising the importance of movement in the healing process, I began taking walks to visit colleagues in another building and then returned to my office. This daily routine of alternating between sitting, standing, and walking significantly reduced my pain levels and facilitated my full recovery. To this day, I continue to follow the same daily regimen, and I have also incorporated a set of straightforward exercises for office workers to enhance my overall wellbeing."
For the greatest overall benefit, I believe that a balanced approach is needed where you combine sitting, standing and movement at work. 
5. What types of height adjustable standing desks are available in South Africa?
There are 3 basic types of standing desks available:
a. Standing or Sit-Stand Desk Converters
Standing desk converters are placed on top of your existing fixed height desk. They are designed to convert a normal desk into a sit-stand desk. They can be adjusted up and down to ensure the monitor, keyboard and mouse are at your ideal standing height.

Pros and Cons of standing desk converters
There are 2 basic options available:
Pneumatic or gas-assisted – The upwards height adjustment is aided by a pneumatic lift function and no manual lifting is required. However, some effort is required when lowering the standing desk converter.
Non-electric counterbalance option – A counterbalance weight makes it easier to change the height of the converter.
b. Manual height adjustable standing desks
There are 2 basic options when it comes to manual height adjustable desks. The first uses a simple crank, and the second, a pneumatic lifter to raise and lower the desk.

i) Crank operated standing desk
ii) Pneumatic lift standing desk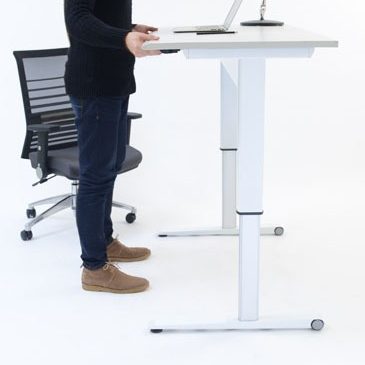 c. Electric standing or height adjustable desks
These ergonomic height adjustable standing desks are freely available in South Africa. The electronic control system enables you to change the desk height within seconds at the simple touch of a button.
6. Factors to consider when using a standing desk
If you are considering buying a standing desk in South Africa, be sure that you keep the following ergonomic factors in mind:
7. Conclusion
Based on my personal experience, to improve your overall physical and mental wellbeing, change your working position often (sitting to standing and back again), and include frequent movement in your daily work routine. 
Invest in an ergonomic height adjustable standing desk but do your homework as there are many types available in South Africa. In my opinion, an electric height adjustable desk is definitely the answer! These desks enable you to quickly, easily and frequently change from a sitting to a standing position during your working day. This, together with regular movement, will ensure you to achieve the greatest benefit to your health and wellbeing.
Because of the effort involved in adjusting a manual standing desk, it is unlikely that you will adjust it as often, and so the overall ergonomic benefit will be less. This is particularly the case with crank handle height adjustable desks.

If you have any medical condition that may not be conducive to standing or exercises, then seek the advice of your health professional.