9 Great ideas for your home office
Creating a great home office can be a very exciting experience, but it can also be somewhat intimidating! Irrespective of whether you have a large or small space, some people opt for modern ideas in their home office, and others prefer a more traditional style. 5 Requirements for Hybrid Work. Whatever your preferred style, here are 9 home office ideas on how to create a functional working area.
1. Office Design
It is great if you have a spare room to utilise as your home office, but if you don't, then you need to create a dedicated office space using part of your home. Almost any small area in the home can be transformed into a modern home office. Consider utilising the space underneath a staircase, converting an alcove, an empty corner in your bedroom, a window that is unoccupied, or even a breakfast nook.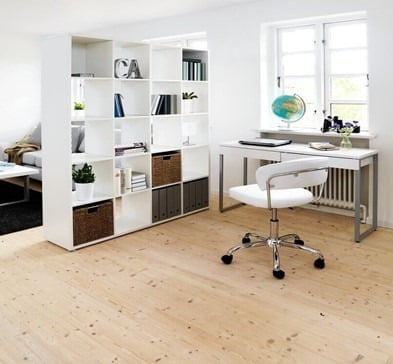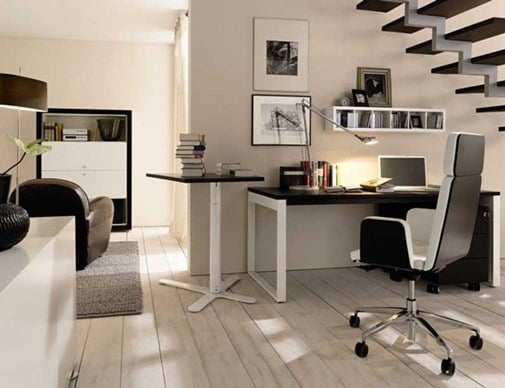 TIP: Try to establish some distinction between your working and living areas by changing the décor to clearly define your home office, or physically separating the space with bookshelves, dividers, plants etc. It should feel like an office when you enter the space. If you have limited space, keep your modern or traditional home office minimalistic, and avoid cramming too many ideas into this space.
2. Office Furniture Ideas for your Home Office
Your desk and chair are the most important items in your home office.
There are so many design and style options available. When selecting a desk, you need to consider the location and size of the area you have selected for your office, as well as the surface space required for the type of work you do. Select from a multitude of options from free standing desks to foldaway or wall mounted desks, shelving and more. Elegant and sleek designs work well in small spaces.
Your office chair should be your top priority in your home office setup, especially if you spend long hours working.  Many people working from home will simply use a dining chair, or they will go out and buy trendy chairs that match the style of their home office set up. The 10 important features of a good home office chair
Dining room or trendy chairs are not intended for extended work use.
These chairs have no adjustable features and provide little or no support for your back, neck, and arms.
If you spend many hours working at home and your long-term health and wellbeing is important to you, then an adjustable office chair is a must-have item.
Good ergonomic or orthopedic office chairs are essential. These chairs are designed to be highly adjustable so that they will fit almost any individuals size and shape. Investing in a good office chair will assist you in maintaining an optimal working posture, while improving your overall comfort and wellbeing. Your office chair should have the following:
3. Wall Covering Ideas for your Home Office
Colours are known to stimulate creativity and can also have an impact on your mood. A clean, white home office area may provide fewer distractions and allow you to integrate colour in a variety of ways. To avoid the area looking bare or incomplete, incorporate some greenery or vibrant accents into the room.  You can even consider painting one of the walls in a different colour, or experiment with different paint textures, patterns and wallpapers.
Be careful not to overuse colour as the intensity of the colour can affect your emotions which could lead to anxiety. 
4. Turn on the Lights
a. Natural Light
A window that lets in plenty of natural light is the ideal set up for your home office. Matt Brady discusses the benefits of natural light in the workplace.
The benefits of natural lighting go beyond the preferences of office workers. In fact, natural lighting in an office environment has scientifically-proven benefits…..Matt Brady
Keep in mind that an office with natural lighting may still require artificial lighting for evening use and days where natural light could be affected by weather conditions.
TIP: If there is a lack of natural light in your home, consider replacing your regular lightbulbs with 'daylight' bulbs which mimic natural lighting.
b. Artificial Light
A well-lit environment can make all the difference in a modern home office. Not only does it light up a dark room but it can also make a space feel bigger and more open. Some lighting ideas for your home office include:
Dim or very bright lighting should be avoided as it can cause eyestrain and potential headaches.
5. Incorporate Biophilic Ideas into your Home Office
A popular new trend is Biophilic design, which aims to bring nature and natural components into your indoor environment. Biophilic design focuses on creating a calming space with a visual connection to nature. This helps relax the mind and improve productivity, while reducing fatigue and stress.
Biophilic design elements:
6. Keep it Minimalistic
Scandinavian design ideas, especially in small areas, are often seen in a modern home office and they are characterised by simplicity and minimalism. They emphasize clean lines with minimum colour and décor. Scandinavian and biophilic design go hand-in-hand as both incorporate elements of nature in their design concepts. Plants, flowers and other natural elements are being used to add a splash of colour.
Tips for a minimalistic office:
7. Modern Storage Ideas for your Small Home Office
Your home office can quickly become overcrowded and messy if you don't have adequate storage. Unless all of your work is done digitally, hanging shelves, book shelves, drawers under your desk or small storage bins are ideal storage options.
8. Artwork Ideas for your Home Office
Artwork
Adding a few pieces of art like nature pictures, bright modern paintings, black and white art or sketches and mirrors to your workplace area, is one way to create atmosphere and make the room feel more modern. Artwork may also stimulate creativity and encourage innovative thinking.
9. Personalise your Working Area
Make it personal....
Personalise your working area by framing your memories and family. Small decorative objects on your desk or book shelves, scattered cushions in your favourite pattern, a funky office chair, plants and/or your favourite flowers and modern lights are other methods to reflect your individuality.
Conclusion
Hopefully these 9 home office ideas will inspire you to create your perfect home office setting. Get your creative juices flowing and start searching for inspirational ideas! Remember that proper ergonomics in the workplace should unquestionably be your number one priority.