15 Great ideas for your small home office
Home or garden offices are becoming increasingly popular as remote and hybrid work becomes the norm. Creating a modern office using part of your home or garden can be a very exciting experience, but it can also be somewhat intimidating as it requires careful planning and organisation to ensure success. Irrespective of whether you have a large or small space, some people opt for modern ideas and décor in their home office, and others prefer a more traditional style. 5 Requirements for Hybrid Work. 
Before you begin setting up your home or garden office, take a moment to consider what you will be using the space for. Your personal preferences, professional requirements and living situation will influence the setup, décor and any other ideas in your home office.
Irrespective of whether you have a large or small space, almost any area in the home or garden can be transformed into a pleasant and productive home office.
Here are 15 great ideas and décor tips to create a modern home office.

Small Home Office Ideas
1. Choose your dedicated work area
It is great if you have a spare room to utilise as your home office, but if you don't, then you need to create a dedicated office space using part of your home or garden. Almost any small area in the home can be transformed into a modern office.
Consider utilising:
the landing space underneath or on top of a staircase
an alcove
an empty corner in your bedroom
a window that is unoccupied
a breakfast nook
an empty cupboard
or create a garden office!
Avoid cramming too many ideas into your home office and establish some distinction between your working and living areas, for example by changing the décor. Physically separate the space using bookshelves, dividers, plants or other furniture. If you have limited space, keep your home office minimalistic.
The area that you have dedicated for your home office should feel like an office when you enter the space.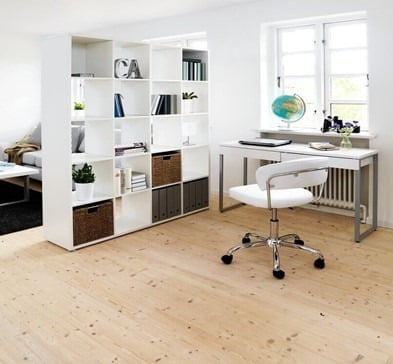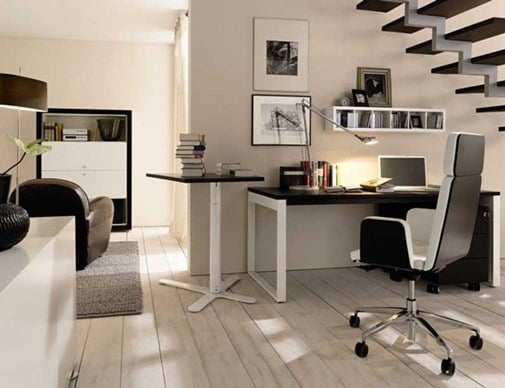 Ideas for creating a modern home office in your garden
Not only does a garden office give you a professional edge over a location inside your house, but it also keeps your home and work life separated.
A garden office can be much quieter than inside your home, and the tranquil environment with a visual link to nature can reduce stress and improve productivity. How to deal with stress at work. 
There are many inspirational garden office structures that can be converted, such as;
Wendy houses
Garden sheds
Green houses
Garages
An outside room added onto your house
An old "Tree House" no longer in use
Or perhaps adding a Garden Office Pods
Advantages and Disadvantages of a Garden Office
Reduced travel time

More family time

Separation of home and work life

Keeping your home more organised as work items will be stored out of sight

Creates a more professional atmosphere for meetings

Less noise and distractions

Improved concentration, not only from fewer distractions, but you can also customise your garden office with your own décor and colours to channel your inner calm and mood

Being closer to nature helps to relax your mind, improve efficiency, and reduce anxiety, stress and fatigue.

It may even increase the value of your property!
Setup cost. This includes but is not limited to the actual structure, insulation, weather-proofing, lights, power supply, security, WiFi connectivity, etc

A desk and a comfortable ergonomic home office chair are crucial elements when setting up your garden office as it can have a significant impact on your long-term health and wellbeing

Space limitations may impact ergonomic office design

Access to bathroom and kitchen

Impact of bad weather on office noise and access

Physical space within your garden

Possible Council planning requirements
Case Study - Working in a Tree House
I recently had the opportunity to meet with Alan, a Civil Engineer from Gauteng. Alan considered numerous ideas for his small home office, but finally settled on a tree house! This is his story.
During the Covid lockdown, Alan and his wife Debbie, an online English teacher and textbook author, had to continue their daily work responsibilities. This was not an easy task for either Debbie or Alan as their two teenage kids were simultaneously being home-schooled. Fortunately for Debbie, their garden shed was easily converted into office space where she could continue her online teaching. With no spare rooms to convert into office, Alan had to work from their dining room table where he had to endure many distractions. This was very difficult, especially during online meetings. He needed his own private space so he could conduct an online meeting in a professional manner. After a week of working at their dining room table, Alan capitulated. He needed his own quiet space in which to work!
Fortunately for Alan, his kids had a tree house in their backyard which was soon converted into an office. Nestled amongst trees and aloe plants, with many windows and a patio overlooking the garden, I immediately felt the calm and serenity during the short the time I spent visiting Alan in his tree house office.
I was amazed at his office setup that included power, WiFi, large windows to maximise the natural light, and even a clock! Alan went with a minimal yet functional desk and home office chair, which gave the room a spacious feel to it.
The initial move to the tree house still had many distractions, but once Alan's working hours and rules were established, it became easier for him to separate his work and home life. Alan's favourite aspect is that his home life is only a few steps away….


2. Office Furniture Ideas for a Modern Home Office
FACT: Your desk and chair are the most important items in your home office.
a.  Your Home Office Desk
When selecting a desk, you need to consider the location and size of the area you have selected for your office, as well as the surface space required for the type of work you do. There are a multitude of options from free standing desks to foldaway or wall mounted desks, shelving and more. Elegant and sleek designs work well in small spaces.
Shelving and Wall Mounted Desks
The options are endless. Layered, fixed or foldaway wall mounted desks are just a few examples. Shelves and home office desks come in a wide range of sizes and shapes, making them perfect for small spaces like an alcove, empty cupboard, unoccupied window, or even an empty corner in a room. Floating shelves with drawers add storage space for office essentials and stationery. These desks are versatile and can easily be transformed from a piece of furniture in your home, to a functional office desk.
Shelving, wall-mounted and adjustable sit/stand desks give you the flexibility to customise the height to best meet your needs.
7 Benefits of using a Sit Stand Desk

b.  Ideas for your Home Office Chair
Your office chair should be your top priority in your home office setup, especially if you spend long hours working.  Many people working from home will simply use a dining chair, or they will go out and buy trendy chairs that match their home décor. The 10 important features of a good home office chair
If you spend many hours working at home and your long-term health and wellbeing is important to you, then an adjustable home office chair is non-negotiable. It is a MUST-HAVE item.

Dining room or trendy chairs are not intended for extended work use. These chairs have no adjustable features and provide little or no support for your back, neck, and arms. Swivel Chairs for Home and Office
Good ergonomic or orthopedic office chairs are essential. These chairs are designed to be highly adjustable so that they will fit almost any individual's size and shape. Investing in a good office chair will assist you in maintaining an optimal working posture, while improving your overall comfort and wellbeing. There are many stylish home office chair options available that will complement the design of your home office.


3. Wall Covering Ideas for a Modern Home Office
Colours are known to stimulate creativity and can also have an impact on your mood. A clean, white home office area may provide fewer distractions and allow you to integrate colour in a variety of ways. To avoid the area looking bare or incomplete, incorporate some greenery or vibrant accents into the room. You can even consider painting one of the walls in a different colour, or experiment with different paint textures, patterns and wallpapers, wall panels and cladding.
Choose a colour scheme that motivates and inspires you!
Paint textures, patterns, wallpapers and other wall covering ideas for a small home office
Wallpaper. Select a pattern that complements your style and enhances the room's mood.
Fabric wall coverings add texture and softness to the room.
A Whiteboard is excellent for taking notes and brainstorming.
Chalkboards are a fun and functional wall covering for a creative office.
Wood paneling adds warmth and a natural touch to the room.
Stone or brick gives the space a more natural and rustic feel.
Cork board can be used as a bulletin board to post notes and reminders.

a. Natural Light
A window that lets in plenty of natural light is the ideal set up for your home office. Matt Brady discusses the benefits of natural light in the workplace.
The benefits of natural lighting go beyond the preferences of workers. In fact, natural lighting in an office environment has scientifically proven benefits…..Matt Brady
Keep in mind that an office with natural lighting may still require artificial lighting for evening use and days where natural light is affected by weather conditions.
If there is a lack of natural light in your home, consider replacing your regular lightbulbs with 'daylight' bulbs which mimic natural lighting.



b. Artificial Light
A well-lit environment can make all the difference in a modern home office. Not only does it light up a dark room but it can also make a space feel bigger and more open. Modern lighting ideas for your small home office include:
5. Add Music to Enhance the Atmosphere
 Music can be a great way to enhance the atmosphere of your home office and increase your productivity. Here are some types of music that you might consider playing while you work:
6. Incorporate Modern Biophilic Ideas into your Home Office
A popular new trend is Biophilic design, which aims to bring nature and natural components into your indoor environment. Biophilic design focuses on creating a calming space with a visual connection to nature. This helps relax the mind and improve productivity, while reducing fatigue and stress.
Biophilic design elements:



7. Keep it Minimalistic
Scandinavian design ideas, especially in small areas, are often seen in a modern home office and they are characterised by simplicity and minimalism. They emphasize clean lines with minimum colour and décor. Scandinavian and biophilic design go hand-in-hand as both incorporate elements of nature. Plants, flowers and other natural elements are often used to add a splash of colour.
Tips for a minimalistic office:
8. Add Furniture that gives the Illusion of Space
There are several types of furniture that can give the illusion of space in a room. For example:
Transparent. Furniture made of glass, acrylic, or clear plastic. A glass-top desk or clear acrylic chair can make a room feel more spacious.
Floating. Furniture that appears to float, such as a floating shelf or wall-mounted desk, can make a room feel more open by freeing up floor space.
Minimal. Simple, minimalist furniture with clean lines and little ornamentation can make a room feel spacious and uncluttered.
Wall-Mounted. Furniture that is mounted on the wall, such as shelves or cabinets, can help to free up floor space.
Light-Coloured. Furniture in light colours, such as white, cream, or light wood, can reflect light and make a room feel brighter and more spacious.
Slim-Profile. Furniture with a slim profile, such as a narrow desk or a skinny bookcase, can make a room feel less cramped.

9. Make use of Mirrors
One of the best ideas to create an illusion of space in a small home office, is by using strategically placed mirrors. Mirrors make an area appear bigger, brighter and more open. To make the most of mirrors in a home office, consider placing a large mirror on one of the walls or in a prominent location. The mirror will reflect the surrounding space, creating the illusion of a larger room. Multiple smaller mirrors will create the same effect. When choosing a mirror for your home office, consider the size and style of the mirror in relation to the rest of the room. A large, ornate mirror may not be suitable for a minimalist office, while a small, simple mirror may not have any impact in a larger room. 
10. Invest in Functional and Stylish Storage Solutions
Your home office can quickly become overcrowded and messy if you don't have adequate storage. Unless all of your work is done digitally, hanging shelves, bookshelves, drawers under your desk, sleek filing cabinets or small storage bins are ideal storage options.
11. Artwork Ideas for your Home Office
Adding a few pieces of art like nature pictures, bright modern paintings, black and white art or sketches and photos to your workplace area, is one way to create atmosphere and make the room feel more modern.
Artwork may also stimulate creativity and encourage innovative thinking.


12. Store cables to reduce clutter
There are so many ways to minimise or store electrical cables in a home office, including using cable ties or clips, a cable cover or raceway, a cable management box or a cord wrap. There are literally hundreds of options where many are extremely cheap and easy to do!
13. Be prepared for load shedding
Unfortunately, in South Africa load shedding is a constant threat to working productively, not just at home, but also in the office. There are however, a number of ideas that you can implement in your home office that will reduce the impact of not having electricity for an extended period. 
Invest in a backup generator, inverter or UPS. This will ensure that your computer, internet connection and other essential equipment remains functional during power outages.
Invest in a solar panel and battery system.
Switch to a laptop as opposed to a desktop. Not only does a laptop use less power, but it also has a built-in UPS.
Use cloud-based services like Google Drive and Dropbox that allow you to access your files and documents from anywhere, provided you have an internet connection.
Use a power bank to keep your devices charged so you can continue working without electricity.
Invest in rechargeable and load shedding lights that automatically switch on when the power goes off. 
14. Incorporate Technology
Invest in the right technology to make your work easier and more efficient. Choose technology that is sleek and functional, such as a laptop or tablet, rather than a bulky desktop computer.
15. Personalise your Working Area
Personalise your working area by framing your memories and family.
Small decorative objects on your desk or bookshelves, scattered cushions in your favourite pattern, a funky office chair, plants and/or your favourite flowers and modern lights, are simple ways to reflect your individuality.

Conclusion
A home office can be a great option for those looking for greater flexibility and a better work-life balance. However, it's crucial to approach it with the same level of discipline and professionalism as a traditional office environment. Whether you have a large or small working area, hopefully these 15 ideas will inspire you to create a modern home office. Get your creative juices flowing and start searching for inspirational ideas!
Remember that proper ergonomics in the workplace should unquestionably be your number one priority.