How to find the best visitor chair for my office
Looking for a visitor chair or reception chair for your office? There are a number of reception chairs available in varying price categories, that are suitable for any visitor to your office, reception area, meeting room, office pod, or breakout area. Once you have decided on the aesthetic attributes, be sure to consider the other 10 important factors before making your decision.
Types of Visitor Chair
1. Traditional 4-Legged or Sleighbase Reception Armchair
Typically, this type of chair is sold as a set together with an Executive chair….all of them having the same look and feel.
Sleighbase or 4-legged visitor chairs can also be used in your reception area, or around a meeting or boardroom table.
2. An Operator or Task Chair for your Visitor
Task chairs are definitely an option when your visitors may have to use their laptop or take notes.
The ability to adjust the chair correctly makes your visitors more comfortable and focused during the meeting.  
3. Soft seating in reception for visitors
This type of seating has really taken off in the last couple of years. By breaking the traditional unexciting office look, interior designers are mixing traditional office furniture with softer domestic seating. This trend has added 'life' to the office environment and provides a huge selection of options in multiple shapes, sizes and configurations.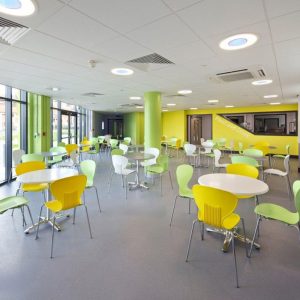 4. Canteen Chairs
When price is important, consider using plastic canteen-type chairs for visitors to your office.
The styles are endless and can be available with or without upholstery. In many cases, these chairs can be stacked when not required, thereby taking up very little space.
5. Reception Chairs
All the above chairs can also be used in your reception area….it is simply a function of the look and feel you want to present to your customers.
Recently, social-distancing has resulted in a trend away from traditional bench seating. There are of course many alternatives depending on the space available.

10 Factors to consider before buying a Visitor Chair
1. Who are your visitors?
Defining who your visitors are is a good first step in determining what type of visitor chair or reception seating you require. For example:
2. Where are your meetings held?
If you are meeting at your desk where your guests don't need a work surface, the visitor chairs can be slightly lower than your desk. Meeting around a conference table is a different scenario. Here you often require a working surface and all the chairs should be higher, and preferably height adjustable.
3. How long are your meetings?
If you want your meetings wrapped up quickly, then don't get soft and luxurious visitor chairs!
Rather look for something plain, simple and firm that says, "Let us get this meeting over in the shortest possible time", and not, "Welcome, enjoy your stay!"

4. How much space do you have available?
If space is at a premium, look for chairs that are smaller in structure, swivel and preferably with castors. This makes the chair easier to move around your office and for your visitors to move in and out from the table.

5. What type of floor do you have?
6. How large are your typical visitors and what style of chair should you provide?
Welcoming a visitor who feels uncomfortable sitting on the chair provided is not a good way to start a meeting. Conversely, having large chairs for small people or children, can make them uncomfortable as they either have to sit on the edge of the seat so that their feet touch the floor, or if they sit back in the chair, they cannot bend their knees.
7. How high should your visitor chairs be?
The visitor chair will more than likely go together with a desk or table. If there is no table involved, then the height of the chair is not an issue. As a rule of thumb, the height of the chair seat should be between 25-30cm lower than the top of the desk. Task chairs are height adjustable, so set the height to accommodate your visitors.
8. What look & feel do you want to create?
Soft seating promotes more of a relaxed atmosphere and breaks the traditional boring office look. By adding a more designer or domestic feel, you can create a bit of exhilaration to your environment. Depending on the design of the chair and office, it will allow people to engage and chat more easily. This is especially the case in breakout areas where the purpose is to keep people in the office and allow interaction on a less formal basis. The use of soft seating in an office.
9. What type of upholstery do you prefer?
Fabric selection is vast and can sometimes be confusing. When choosing a fabric consider the following:
10. What is your budget for visitor chairs?
Lastly, everything has a price tag, including an office visitor chair! Consider the above factors and match your requirements to what's available. Cheap plastic chairs are available for under R100, whereas a more luxurious office visitor chair or leather couch can have a price tag of many thousands of Rands.
The great thing about visitor chairs is that because they are not used constantly, they can be moved around, so you can start off with "cheap" temporary seating and replace these when necessary.
Conclusion
Finding the right visitor or reception chair for your environment may seem like a lot of hard work, but the reward is enormous. The correct chairs bring a real sense of style and design into your workplace and will leave a lasting impression on your customers and visitors.
Visit our showroom or Contact us for more information.