Traditionally a showroom allows you to view the different products available, to touch and feel, and finally, to ask a sales consultant for advice. Although this is true at Karo, it is only part of the reason. Confused and intrigued? So why do we have a showroom at Karo?
The purpose of our showroom is to allow our qualified Office Ergonomics Risk Facilitators to assess your seated posture. Based on their assessment, they will then assist you in selecting the correct chair, desk and other accessories that best suit your needs, and your budget.
1. What to bring when visiting our showroom
In our showroom we have many ergonomic chairs, plus desks, monitors, keyboards etc. This allows our Ergonomics Risk Facilitators to make a thorough analysis of how you normally sit at your workstation. However, to assist us in this process and to make your visit to our showroom a real success, it is important that you have the following information available:
a) The height of your work surface at home or at the office
Measure the height of your desk, table, workbench, etc, from the floor to the top of the working surface. We will then setup one of our desks to match the height of your actual workstation.
b) Laptop or desktop computer
If you work on a laptop without a monitor, bring it with you. This will allow us to duplicate your current workstation setup and determine whether you need additional accessories like a wireless keyboard, monitor stand, etc.
c) What shoes do you normally wear?
Your footwear can influence the optimal setup of your workstation, so wear the shoes that you normally wear to work.
d) Do you wear glasses?
If so, bring them along so that we can ensure the monitor is placed at the correct distance for you.
Note: Our showroom is located on the first floor, so if your are in a wheelchair or are unable to climb stairs, don't worry. We will bring everything down to the ground floor!

2. What you can expect when you visit our showroom
a) Based on the answers to the above questions, our ergonomics experts will setup a desk or table that matches your existing workstation. They will then complete a series of measurements to analyse your seated posture. Finally, they will setup an ergonomic workstation that correctly matches your body.
b) You will then have the opportunity to test various chairs, desks and other accessories. You can see functional demonstrations of products that can't be conveyed by pictures or online. Test, feel, touch.
c) Our qualified personnel will show you the differences between the products, what features are important for you, and what makes one product better than the next. They will assist you in selecting the particular chair, desk, etc that best suits your needs, preferences and of course, your budget.
d) Bring your questions! We are here to provide the information and resources you'll need to make the right choices for you.
d) Having the option to place yourself in the midst of the products in real conditions will assist you in making the best decision.
e) Even if you have a strong idea of what you want, a showroom gives you the opportunity to not only see the products you have in mind, but also to explore other options. It will either cement your ideas or present new ones for you to consider.
f) After visiting our showroom, many people have a different and more accurate idea of what they need for their home and/or work office.
g) Finally, when you are satisfied with the setup and product selection, we will quickly prepare a quote for you so that you have all the information necessary to make the right decision.
3. The benefits of visiting our showroom
a) Have an expert correctly assess your seated posture and make recommendations that best suit YOU.
b) See, feel, touch and test the products. Even if you have the seen the catalogue or electronic pictures, nothing beats a real test-drive!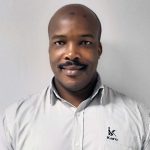 Author: George Mashinini
Office Ergonomics Risk Facilitator at Karo Manufacturing (Pty) Ltd