Are you searching "office chairs for sale in Cape Town, Durban or elsewhere"?
Would you prefer to buy fully assembled office chairs and avoid the time and hassle of putting them together?
Are you concerned that you may not get what you ordered online or it is out of stock?
Are you worried about not getting a refund if the chairs are unsuitable or of poor quality?
When you see office chairs for sale online, are you hesitant unless it is a reputable seller like Makro or Takealot?
How safe and reliable is it to buy office furniture from Karo online?
The RISKS and FEARS of buying online
COVID-19 has changed the way we shop. For many of us, buying anything and everything online has become the norm. Buying office furniture and other products online can be risky. Will my products arrive? What if they are wrong? Can I send them back? I don't have the time, so will the office chairs be delivered fully assembled? Will the seller scam my credit card? These are just a few of the risks and fears….and there are many more!
Shopping online comes with its own benefits, however there are still many people, not just in Cape Town and Durban, but all around the country who want to experience a 'real office furniture store' where they can see and touch the chairs before parting with their hard-earned cash. Below are some of the most frequently asked questions that we have received from online shoppers.
1. Is Karo online a reputable and secure online shop?
Established 35 years ago, Karo is a manufacturer of high quality ergonomic office chairs and casino seating. From our factory and showroom located near Johannesburg, we distribute all our products to customers around the globe. A selected number of our office chairs are sold by two of the most well-known and reputable online distributors in South Africa, namely Takealot and Makro.
Karo office chairs can be purchased directly from our online shop. If you prefer, a selected range of our office chairs is available on the Takealot and Makro online portals.
2. Why does Karo only have an office chair showroom in Johannesburg, and NOT in Cape Town, Durban or other major centre?
If you are searching "office chairs for sale in Cape Town or Durban", you are probably hoping to find a "real furniture store". Karo only has a "bricks and mortar" shop in Johannesburg. Why? The answer is simple…we want to reduce our costs and offer YOU the best possible deal.
Having a bricks and mortar furniture shop for our office chairs in Cape Town, Durban or other centre, costs money. Lots of it. Some of the costs include renting a showroom and warehouse, salaries, IT and communication systems, and numerous other overheads. The only possible way to recover these costs, is by increasing our selling prices to you, our customers.
By having a central factory and warehouse for our office chairs in Johannesburg, we avoid the huge cost of maintaining a furniture showroom and warehouse in Cape Town, Durban or any other centre.
By keeping our costs down, we can reduce our selling prices and provide you with the best deal.
For all our Cape Town, Durban and other customers around the country, our office chairs are available from our secure online shop.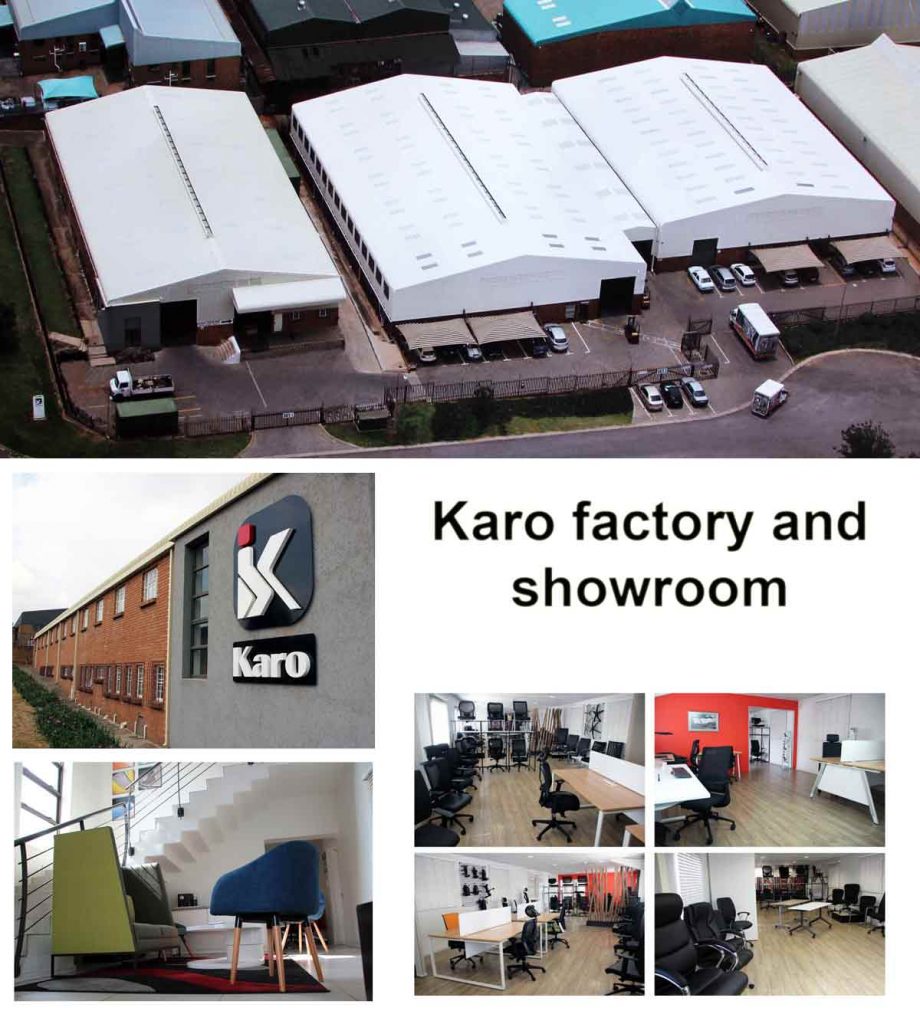 Karo has been manufacturing office chairs for the past 35 years.
Our manufacturing plant and warehouse is based in Johannesburg. We ship a broad range of office chairs and other furniture, ranging from cheap to expensive, to Cape Town, Durban and every other major centre around the country.
3. I live in Cape Town or Durban, so do I have to ASSEMBLE the office chair when I receive it?
Assembly of an office chair can be a daunting task, but not any more!
All office chairs that are purchased via our online shop are FULLY ASSEMBLED and packed in a box. You do not need to do any assembly. No screwdriver, spanner or allen key is necessary. You simply unpack the box and start using your brand new chair!
Any chair purchased via our online shop, will be delivered to your door FULLY ASSEMBLED.

For added protection during transport, chairs delivered to regional areas are FULLY ASSEMBLED and boxed (as shown).
Please note: All Karo office chairs sold by Takealot and Makro are delivered flat-packed and the chairs will need to be assembled.
Only chairs bought from our online shop are supplied FULLY ASSEMBLED.
4. What is Karo's Refund Policy?
Pictures can be very deceiving and buying online risky. One of the greatest fears, if not the greatest fear that every online purchaser has is, "what happens if I need to return the product, will I get my money back?"
If you are in Cape Town, Durban or any other location in South Africa, every office chair offered for sale from Karo has a 14 day money back guarantee. NO QUESTIONS ASKED. If you are not happy with the product for ANY reason, return it to us within 14 days for a full refund.
5. How secure is my online payment?
How often have we heard, "I'm nervous to use my credit or debit card online…could it be a scam"? Of course this is a valid concern. If you are living in Cape Town and buying high value office chairs online, you want to be confident that your online transaction is safe, and that the security of your credit or debit card will not be compromised.
Our Karo online shop uses the highly secure PayFast payment portal. This guarantees the security of your online transaction and protects your privacy.
6. Is my personal information safe?
Your personal information is safe and secure because Shopify Inc hosts our online shop. They provide us with the online e-commerce platform that allows us to sell our products and services to you. Shopify's data storage system secures your personal information. Karo has no access to your credit or debit card information. Neither Shopify nor Karo will ever divulge your personal information. For more details, see our Privacy policy.
7. What is the product warranty?
The warranty period offered on our office chairs varies from one product to the next, typically from 5 to 10 years. Our website clearly shows the warranty on every product. If you have received the product and it does not meet your expectations, return it to us within 14 days for a full refund. See our Returns Policy for details.
Many of the office chairs that we have for sale in Cape Town, Durban and elsewhere, or via Makro and Takealot, have received certified customer reviews. Furthermore, all our office chairs have an ergonomic rating, and many have an internationally accredited quality certification.
In the unlikely event that you experience a problem with one of our products, contact us and we will ensure that your chair is repaired under warranty, quickly and efficiently.
8. What if the chair I bought online is not exactly as advertised?
Pictures can be very deceiving. On our website, we have "Product Features" videos of many of our chairs that showcase their features and functions. These videos will give you an indirect experience and feel for the chairs.
We guarantee that the product pictures shown on our website are accurate. However, if you feel that this is not the case, simply return the chair to us within 14 days for a full refund.
Every fully assembled office chair for sale from Karo has a 14 day money back guarantee. NO QUESTIONS ASKED.
9. What if the office chair that I received in Cape Town or Durban is defective?
If the chair that you purchased for your home or office is damaged or defective, let us know and we will replace the chair at our expense. Alternatively, return the chair to us within 14 days for a FULL REFUND. No questions asked. See our Returns Policy.
10. Do I pay the shipping costs if I return the office chair from Cape Town or any another location?
The simple answer is NO.

If you need to return the assembled office chair from Cape Town, Durban or any other destination, Karo will cover all costs.

For hassle free returns, your assembled office chair can be placed in the same box provided with your delivery. We will arrange for a courier to collect it from you and you will not incur any expense.
11. What does it cost to ship an office chair to Cape Town or any other town in South Africa?
Shipping to Cape Town, Durban or any other location in South Africa, is FREE for every office chair sold on Karo's online shop.
There is NO SHIPPING COST for all Karo office chairs purchased directly from our online shop.
NOTE: Karo office chairs bought from Takealot or Makro, may incur a shipping charge.
12. How will I know the office chairs for sale on your website are available in Cape Town, Durban or elsewhere?
If an item can be purchased on our online shop, then it is in stock and available for immediate shipment. If the product is out of stock, you will not be able to purchase it online. Contact us to enquire about expected stock availability.
13. How long do I have to wait for my chair to be delivered to me?
We process online orders within 1 business day. The shipping time to your home or office depends on your location – click here for details.
The delivery lead time for products purchased from Takealot or Makro may be longer than if you purchased the same product directly from our Karo online shop.
14. How do I select a chair for my specific needs?
If you are unsure what to buy, you can chat to one of our Ergonomic Risk Facilitators on 011 392-6803 or via our online chat. We have a huge product range and will gladly assist you in finding a product that matches your needs.
15. Do the chairs come with operating instructions?
Most of our office chairs have a "Product Features" video that gives you detailed operating instructions.

Alternatively, contact us on 011 392-6803 or via our online chat for post-purchase support.
16. Is my purchasing knowledge sufficient to make an informed decision?
The Learning Centre on our website has many knowledge articles on Ergonomics, Office Space Design, Product Care, Health & Wellness, etc. Alternatively, contact us on 011 392-6803 or via our online chat and we will gladly assist you.
Conclusion
Although you may have been looking for office chairs for sale from a physical store, buying them from Karo online is a risk-free and cost effective alternative. We have listened to your fears and have addressed all the risks of purchasing online. Because Takealot and Makro sell some of our ranges, you also have the option of using their online portals for your purchase.

Only products purchased through Karo online are FULLY ASSEMBLED and have FREE delivery throughout South Africa.