We've been asked this question over and over again……"What is the price of a good ergonomic chair?" Ultimately, the cost of a chair depends on two factors:
the application of the chair
the features and adjustments of the chair.
At some point or another, almost everyone will spend time sitting in their work area. Because there are so many chairs and options available, there is often confusion in firstly selecting the correct chair for the application, and secondly, how much the chair should cost.  You should never select a chair based only on it's price. The following factors should always be taken into consideration:
The type of work you do?
For how many hours per day do you use the chair?
How long do you want the chair to last?
The type of work you do (the application)
The application of the chair plays a significant role in it's price. For example, chairs that are used in a 24/7 Control Room are quite different to those used in a laboratory or in a casino. Control room and casino chairs are extremely robust and designed for heavy-duty usage, whereas office chairs are designed for 8 hour days. Like cars, clothes or shoes, chairs are designed for specific applications and there is no "one size fits all".
How many hours per day do you spend sitting in your chair?
If you spend more than 6 hours a day sitting at your workstation, you should consider an ergonomic chair with more features, greater adjustability and a longer warranty. Such a chair will allow you to adjust it to optimally suit your body. A correctly adjusted chair is more comfortable, is not detrimental to your health, and it improves your productivity.
On the other hand, if you are only using your chair for 2 hours a day, you could invest in a budget-friendly chair with fewer features and adjustability functions. To improve your health, comfort and productivity, you should always insist on a chair that allows you to make basic adjustments like changing the seat height and backrest angle.
When selecting a chair, consider one with the adjustable features and functions that suit your needs and won't compromise on your health and comfort. Some of these features could include:
Adjustable seat height
Adjustable seat depth
Multiple armrest adjustments
Backrest angle adjustment (dynamic sitting)
Height adjustable backrests and/or adjustable lumbar support.
The above features are more common in expensive office chairs. Less expensive chairs may have similar aesthetics and offer some of the same ergonomic features. To better understand why there are significant price differences, here is a comparison between two executive chairs, viz. the Mira Executive and Elara Executive. Although they may look similar, there are important differences in their features and price.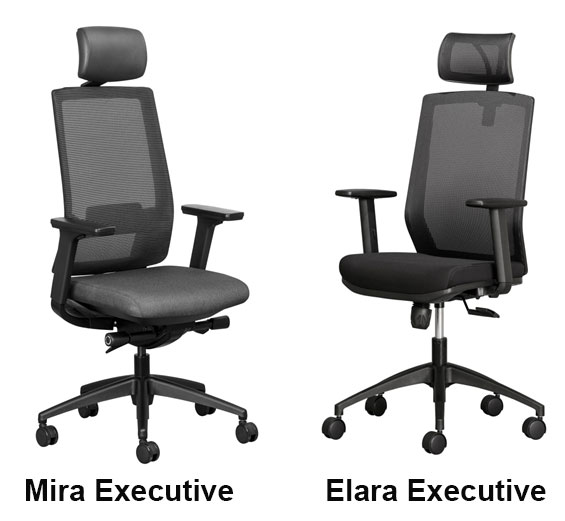 MIRA EXECUTIVE
Cost approx. R5000
ELARA EXECUTIVE
Cost approx. R2500
Warranty
10 Years
5 Years
Weight Capacity
150kg
120kg
Ergonomic Rating
5 Star
3 Star
Seat Depth Adjustment
Yes, 5cm
No
Lumbar support
Yes, adjustable
No
Headrest
Yes, height adjustable
Yes, height adjustable
Tilt mechanism
Synchronous, 4 locking positions
Synchronous, 1 locking position
Armrests
Height adjustable, plus arm pads
that allow forward, backward
and lateral adjustment
Height adjustment only
Certification
BIFMA Certified
None
How much should my chair cost?
So, what is the price of a good ergonomic chair? The cost of the chair is determined by your specific seating requirements and desired benefits. Focus on these critical elements and never compromise on comfort and quality.
Contact us  and let us assist you in selecting the right chair for your specific needs.

Author: Ronel Hendry
Office Ergonomics Risk Facilitator at Karo Manufacturing (Pty) Ltd