So you want to buy a new office chair and the selection on offer is huge. How do you make the right decision for your needs? Learning about ergonomics and how to select the best ergonomic chair, can help address health issues, improve your posture and allow you to stay comfortable throughout your working day.
1. What does Ergonomic actually mean?
Ergonomics is sometimes known as human factors engineering. Ergonomic products are designed to have a minimal physical and mental impact on our bodies. Your height, weight and build are just a few things that must be considered when designing an ergonomic product like an office chair.
Computers and related products, such as computer desks and chairs, are frequently the focus of ergonomic design. Many people use these products for extended periods during their normal working day. If they are poorly designed or incorrectly adjusted, the person using them may suffer unnecessary fatigue, stress, and even injury.
2. How does Ergonomics relate to sitting?
At the beginning of the last century, people realised that the wellbeing and efficiency of employees could be improved, and fatigue reduced, if workers were allowed to sit down while performing their tasks. This contributed to the study of ergonomics and a focus on designing seats for work. Today more than 75% of employees in industrial countries have seated jobs.
Unfortunately, our bodies are not designed for sitting, and doing so for long periods can have a negative impact on our long-term health and wellbeing. The most common health-related issues caused by sitting for extended periods include:
An ergonomic chair is designed to reduce the impact on your body, of the above sitting-related health issues.
3. How does Ergonomics effect the selection of your chair?
Before deciding on the ergonomic features you want for your chair, be clear about the type of work you will be performing when sitting down. This will have an impact on the ergonomic features you require not only for the chair, but for the workstation as a whole. For example, will the chair be used in an office, laboratory, factory, home office or a 24/7 call centre? Will it be used by a single person or will there be multiple users? What desk or table will be used?
Ergonomic chairs are adjustable and are designed to accommodate most people, viz. 90% of the population. The shortest and tallest 5% of people may need custom-made chairs. When it comes to chairs, there is no one-size-fits-all.
The greater the number of adjustable features a chair has, the greater the number of people that will be able to set it up in an ergonomically correct manner.
4. Features of an ergonomic chair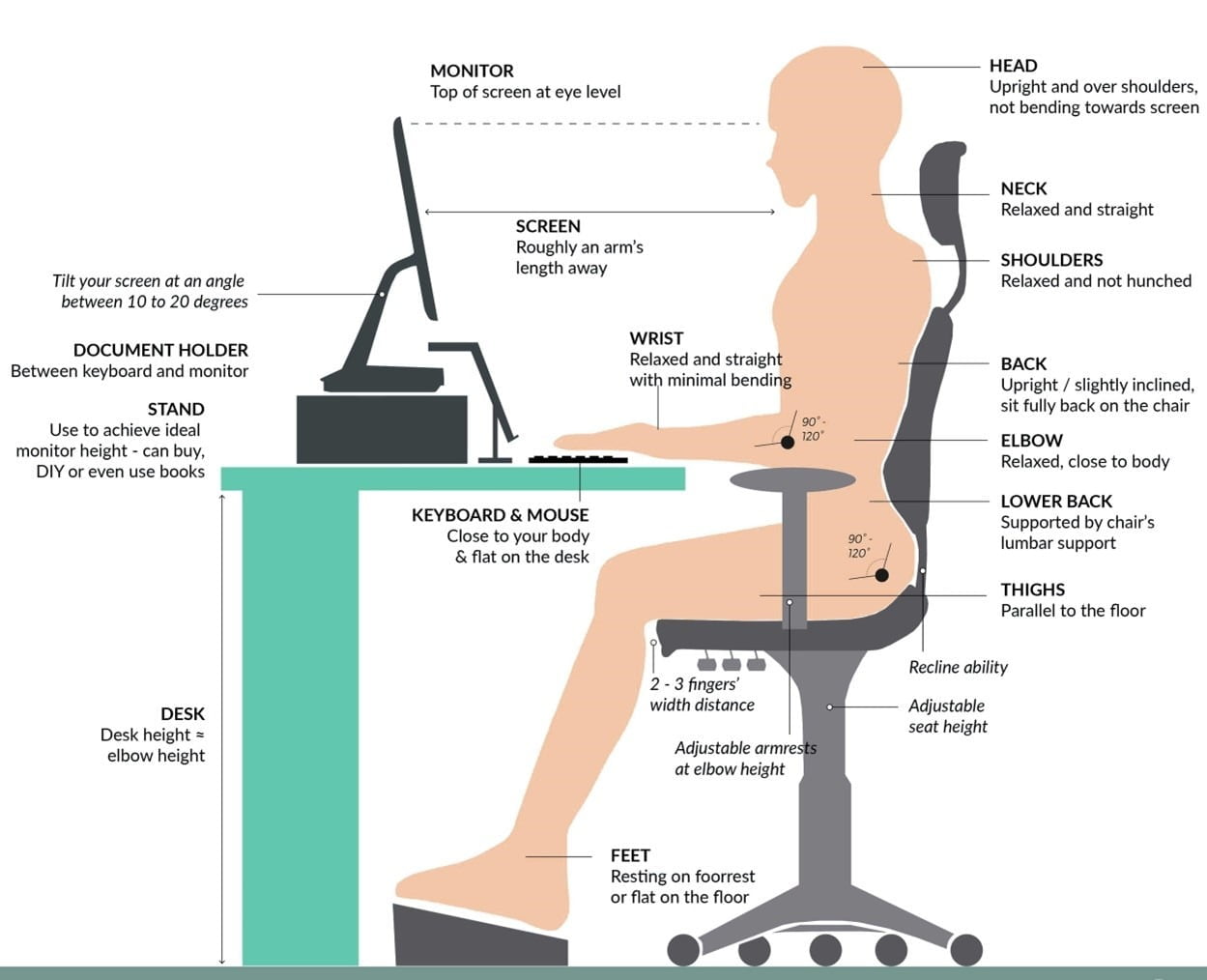 With all the possible adjustments, there is a chance that the chair may be setup incorrectly. Unless you have some prior knowledge, correctly setting up a chair that has all the adjustable features like seat height, backrest height, backrest angle, lumbar support, seat depth, armrests, etc, can be quite daunting.
Note: Get professional help to setup your chair if you have an underlying medical condition. An incorrectly adjusted chair may aggravate the condition, or cause additional complications.
5. Conclusion
How to select the best ergonomic chair for yourself requires a basic understanding of office ergonomics. The chair must have the necessary adjustment features you require for your workspace setup. An ergonomic chair will only be of benefit to you if it has been adjusted correctly for your specific needs.
Author: Joachim Roetger
Director at Karo Manufacturing (Pty) Ltd